The Best Colour To Paint Front Door Based On Star Sign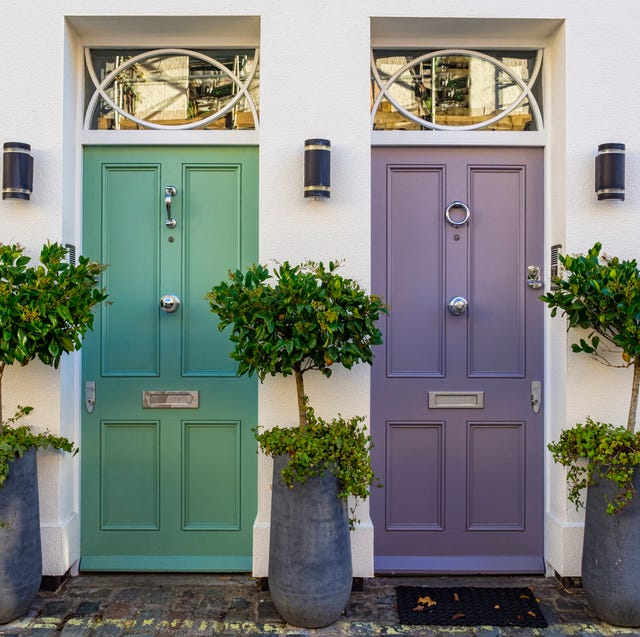 Nicola ColomboGetty Images
Find your unique interior style with a little help from your zodiac sign. From colours to plants and your lucky house number, the team at Barratt Homes have partnered with celebrity astrologist, Sally Kirkman, to help you style your home entrance based on the traits of your star sign. Just for fun!
Fancy looking to the stars for inspiration? Whether the below ideas ring true for you or not, when it comes to your front door, kerb appeal is always key, and above all, put your own stamp on it to create somewhere you're proud to live.
Advertisement – Continue Reading Below
1
Aries
Aries are naturally energetic, with a passion for bold, fuss-free designs. If this is your star sign, refresh your front door with a lick of letterbox-red paint — it's a surefire way to make a statement. Opt for materials such as steal or metal. For plants, look to cacti, the prickly pear, red geraniums, and roses.
Lucky house number: One
Key colours: Red, representing courage, danger and passion.
2
Taurus
Ruled by tender Venus, Tauruses are traditionalists at heart. They seek comfort in nature, love the countryside and revel in sweet-smelling flowers. Consider painting your door a soft green colour or creating a striking flower arch from foliage.
Lucky house number: 51
Key colours: Earthy colours such as green, rust, copper, cream and brown.
3
Gemini
Famously known as communicators of the zodiac, Geminis love playful hues in the home — and on their front door. When it comes to plants, lavender and lily-of-the-valley are their top picks.

'You thrive off symmetry, so two symmetrical shrubs at either side of your door would be ideal for you,' says Kelly.
Lucky house numbers: Two and three
Key Colours: Yellow, along with bright, light, and airy tones.
4
Cancer
The crab loves to make their home cosy and inviting, whether this is by using soft textures, signs, or calming colours. Kelly explains: 'You should draw this out in your home entrance by creating a sense of history using old sculptures or junk yard finds.'
As for flowers, opt for tulips or lilies, surrounded by lots of deep green leaves and foliage. Don't forget a welcome mat, too.

Lucky house number: Four
Key colours: Silver, white, and mother-of-pearl, as they represent the Moon.
5
Leo
If your zodiac sign is Leo, then make your front door vibrant and punchy – much like your personality. Leos love Hollywood glamour and gold accents.
'Your taste isn't always subtle, and you often have a penchant for gold and bling. As your star sign is linked to royalty, it's no wonder you have such expensive taste!,' says Kelly.
Lucky house number: Five
Key colours: Bright oranges, gold, and sunset pinks to symbolise the sun.
6
Virgo
Virgos have a deep love of planet earth and nature, which is also reflected in their interior choices. If this is you, opt for leafy greens, ceramic tiles, buttercups and daisies. Virgos love to keep their homes shipshape, so they will always tidy away clutter left outside the front door.
Lucky house number: Six
Key colours: Leaf green, earth brown, beige, and corn yellow reflect your love of nature.
7
Libra
Libras like to keep things simple, stylish and calming — both at home and in their everyday lives. Symmetry, harmony and balance are all associated with this zodiac sign.
'Ruled by Venus, you are the style icon and designer of the zodiac. Your style is a blend of modern and classic, tranquil and serene. Marie Kondo is your style icon, as you love to keep things organised,' says Kelly.
Lucky house number: Seven
Key colours: Pastel colours, especially pale blues, light greys and subtle pinks.
8
Scorpio
Scorpio is the deepest sign of the zodiac. When it comes to their homes, they adore rich colours (black and deep reds), plus incense burners, sacred symbols, leather, wood and the Venus fly trap plant.
Need some further inspiration? 'Your passionate nature lends itself to rich, vibrant designs that feel exotic. You're also drawn to gothic architecture, so bear that in mind when designing your home entrance,' Kelly says.
Lucky house number: Eight
Key colours: Black and red. Think deep maroon tones, full of richness and flavour.
9
Sagittarius
With a larger-than-life character, those with a Sagittarius star sign will have a front entrance with bold hues, vibrant tiles and unusual foreign plants.
'Rich natural materials such as leather and wood will showcase your love of the great outdoors. Combine these with materials from your favourite countries to showcase your true style,' says Kelly.
Lucky house number: Nine
Key colours: Purple, royal blue, vivid yellow and pillar box red.
10
Capricorn
Deep navy, moss green and brown are the key colours which reflect the personality of a Capricorn. Why not consider giving your front door a new lease of life with one of these hues? As someone who wants to make a statement, you prefer quality over quantity.
'Choose trees, shrubs and ivy, rather than brightly coloured flowers. However, if you do want to add some colour, scattered pansies or jasmine flowers are your best bet.'
Lucky house number: 10
Key colours: Brown, grey, navy blue and moss green capture your conservative nature.
11
Aquarius
Aquarius' are lovers of water, so, naturally, their favourite door colour is blue. Unique and arty, they want their home entrance to stand out.
'You love gadgets and will no doubt have a high-tech alarm, lighting, and doorbell for your home entrance. Abstract art also attracts you, along with distinctive, modern pieces that raise questions and provoke thought.'
Lucky house number: 11
Key colours: Neon colours, particularly electric blue. Combine with silver for a true reflection of your sign.
READ MORE: 7 of the best home security cameras to buy now
12
Pisces
Romantic, compassionate and creative, Pisces are drawn to sea-greens, aquamarine and mauve. They love to be reminded of beach life, so will incorporate shells, rope and baskets, too.
When it comes to flowers, they love succulents, water lilies, lotus flowers and cosmos.
Lucky house number: 12
Key colours: Deep blues, sea-greens, aquamarine and mauve.
Like this article? Sign up to our newsletter to get more articles like this delivered straight to your inbox.
SIGN UP
This content is created and maintained by a third party, and imported onto this page to help users provide their email addresses. You may be able to find more information about this and similar content at piano.io
Advertisement – Continue Reading Below