Simple Valentine's Day decor and free printables make decorating for the holiday easy and inexpensive.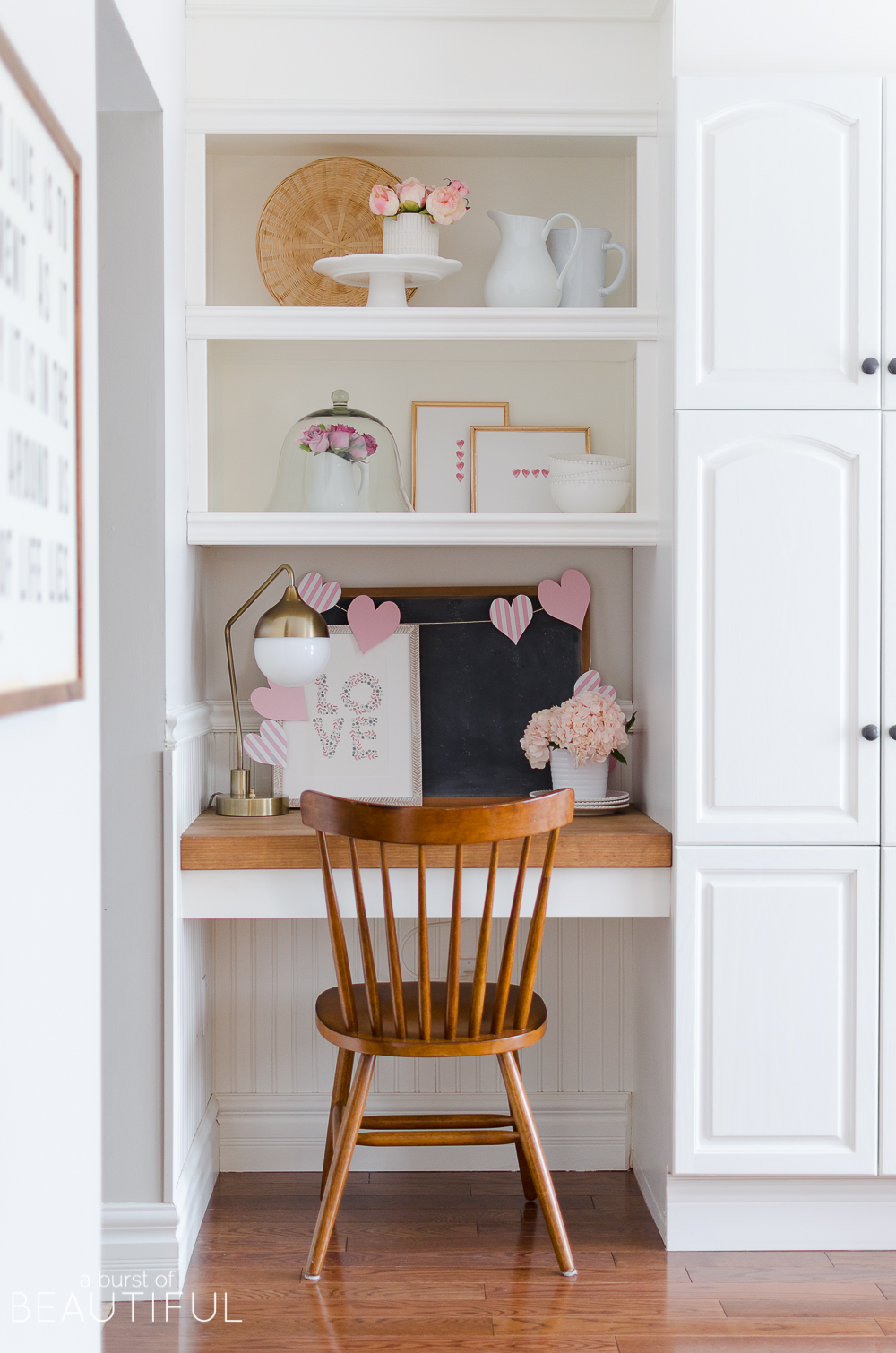 This post contains affiliate links, see our full disclosure policy

here

. Thank you for helping support our blog.
Are you feeling the love yet, friends? I sure am! It's been just over a week of Valentine's Day posts and I am loving every one of them. 
Valentine's Day is such a fun little holiday to celebrate, whether it's between your partner, your children or your friends, it's a special day and a great excuse to make some lasting memories. I mean, who really wouldn't want to celebrate love, right?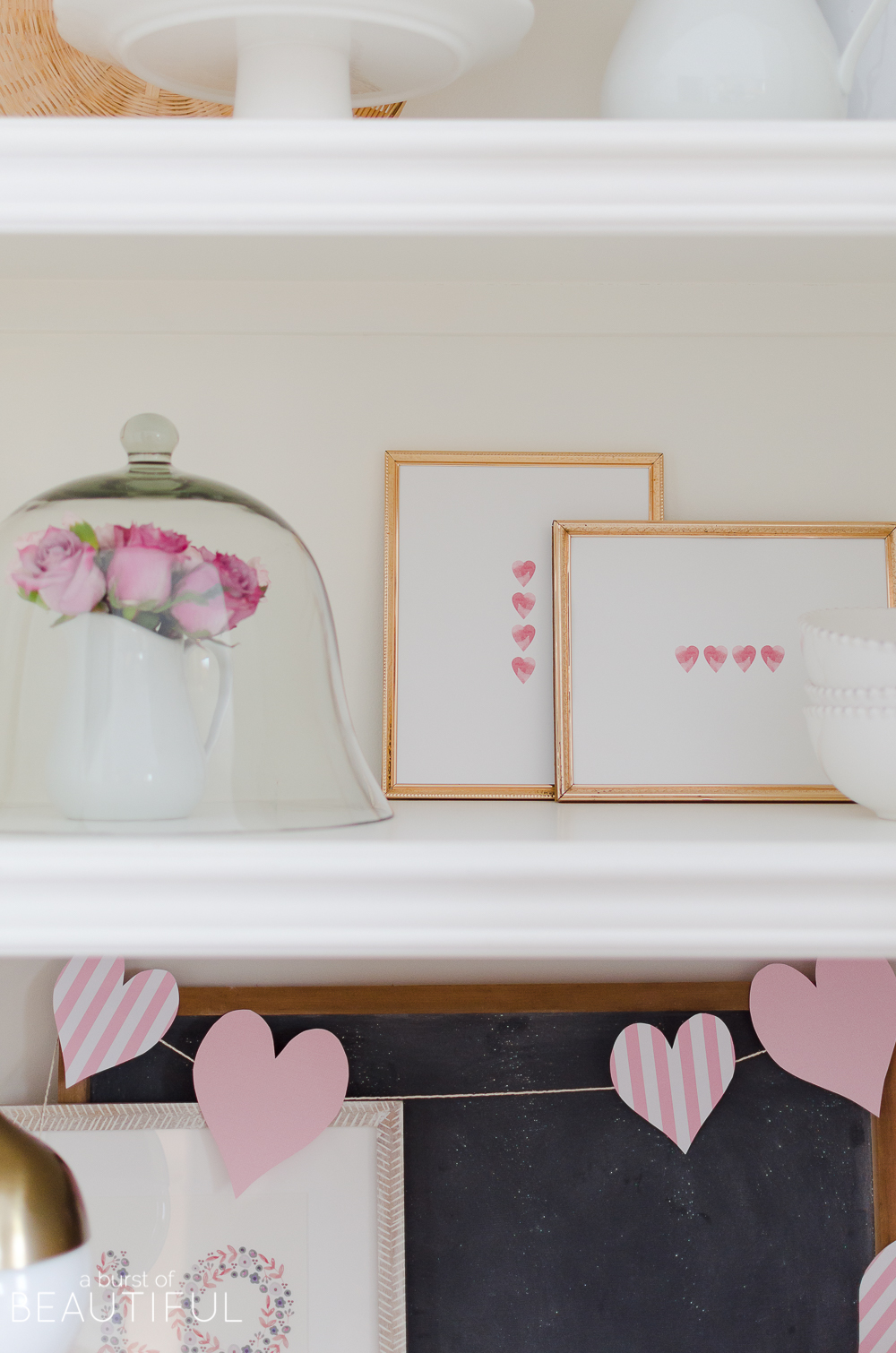 We've never really decorated for Valentine's Day around here, but like I've said, since having our little one every holiday has taken on a new meaning. I find myself enjoying the process of decorating our home and creating special memories for our daughter. Another thing that has surprised me is how much I've come to love the color pink. I've always thought it was pretty, but I never imagined myself using it throughout our home, that is until we designed Zoe's toddler bedroom and now I just can't get enough. 
It's such a versatile color, it can be romantic or playful and fun. And just like the color blue, I honestly feel it's a neutral, it goes with pretty much any palette out there.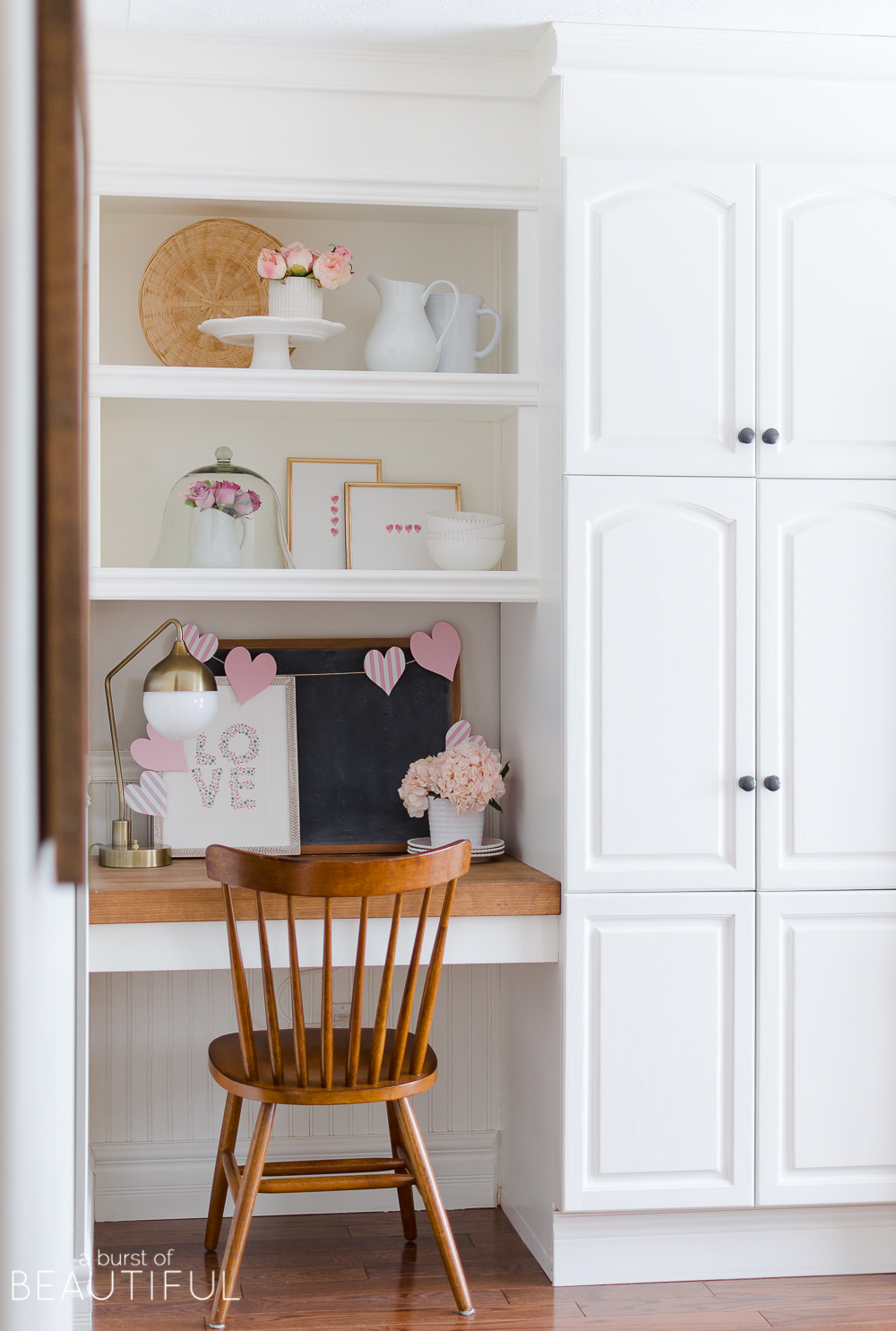 If you missed it you can catch how I created two different but equally fun tablescapes using the color here and here. And today I'm going to share the easy changes I made to our kitchen nook to spread a little love around our home. I've also got two free Valentine's Day printables for you if you'd like them. 🙂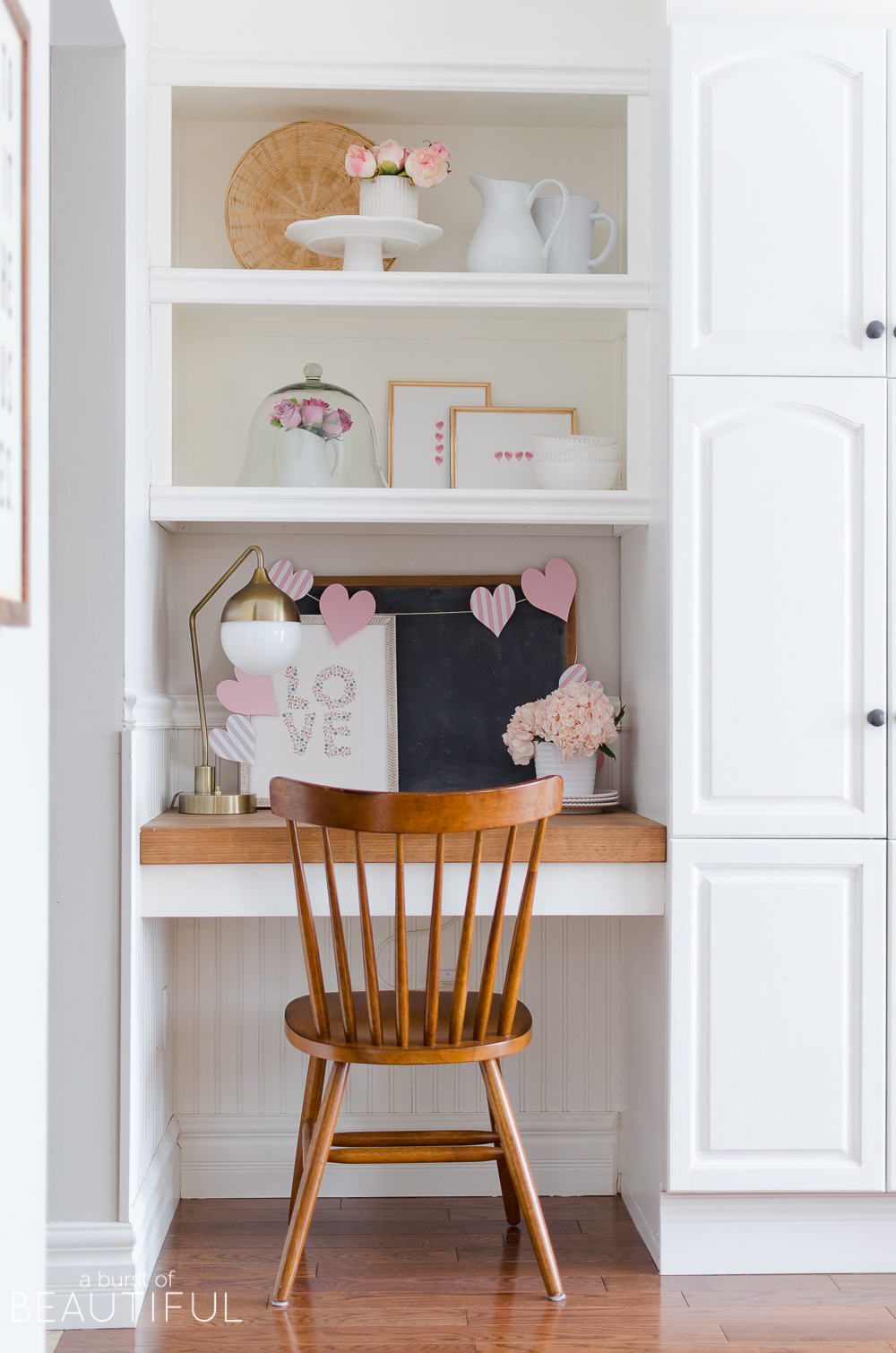 ---
get the look

---
I love changing the look of these nooks in our kitchen, they are an easy place to style and I always have fun adding a few different details depending on the season or holiday we are celebrating. 
The color pink really pops against the stark white of our built-ins, so I tried to keep things as simple and bright as I could to really emphasize the pink details I added. I repeated white elements, like a cake plate, different sized pitchers, and a few bowls.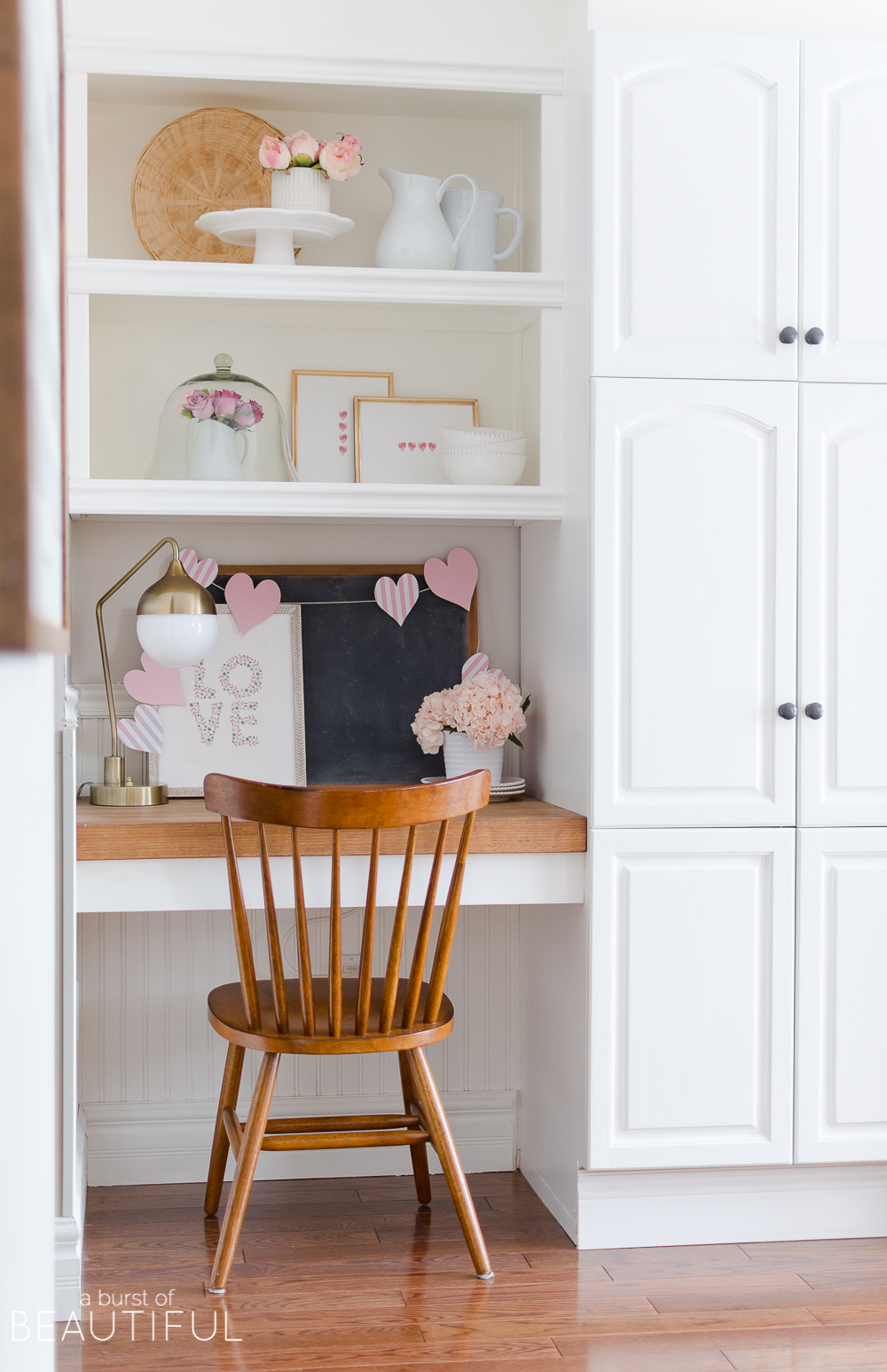 Then I added warmth to the vignette with texture and natural and gold tones. You can see I started with an oversized wicker basket in the top left corner, then added two simple gold frames under that and to the right. I continued this pattern with the table lamp and finally the wood Windsor chair. See how it kind goes in a zigzag pattern? Following that pattern is an easy way to keep your shelves balanced and pleasing to the eye…just one of my favorite tips for styling shelves. 🙂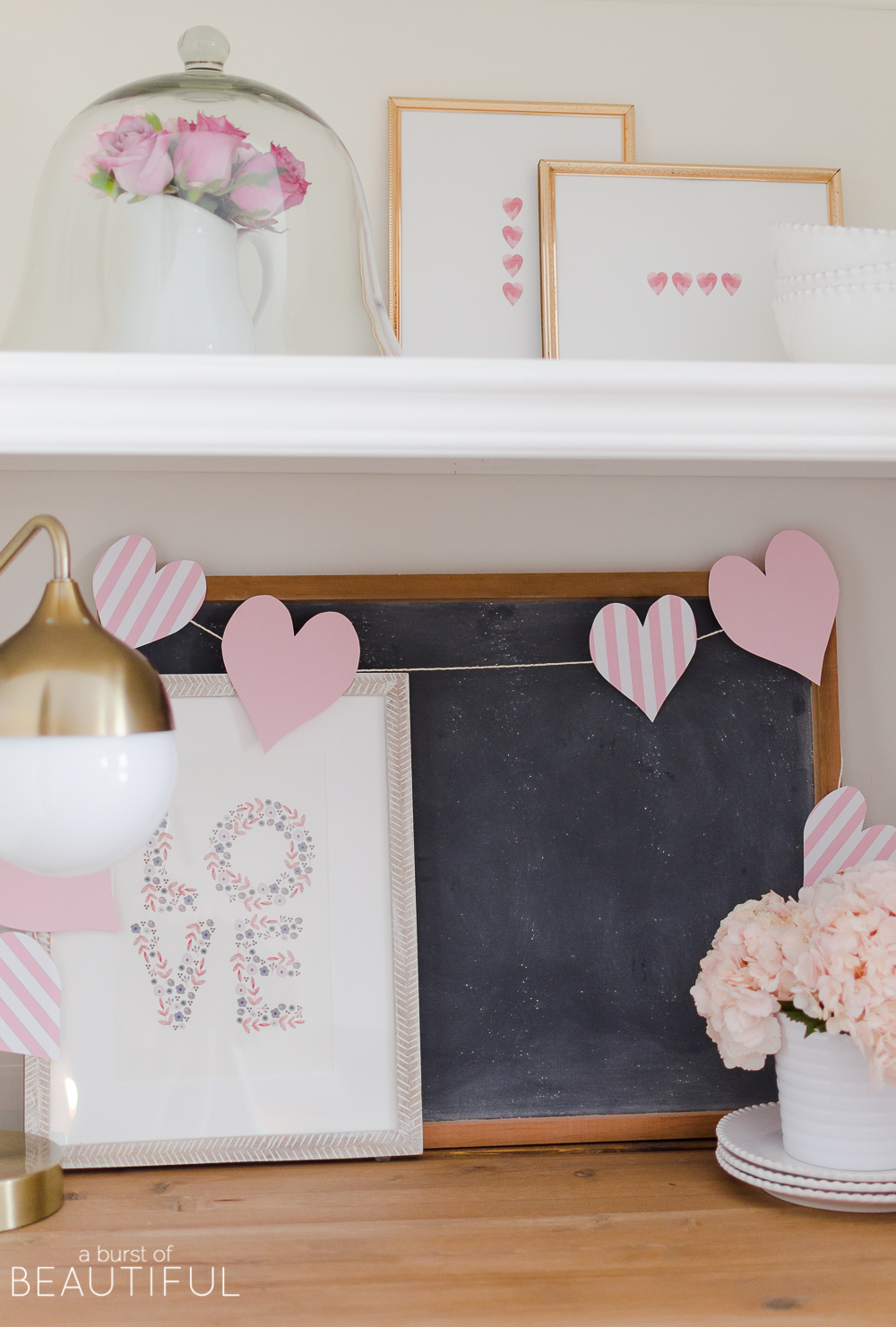 Next, I added my pops of pink with little mini arrangements of pink flowers. I used a mix of peonies, roses, and hydrangeas and placed all of them in simple white vases. Again, I followed that same zigzag pattern to create a visually cohesive feel to the space.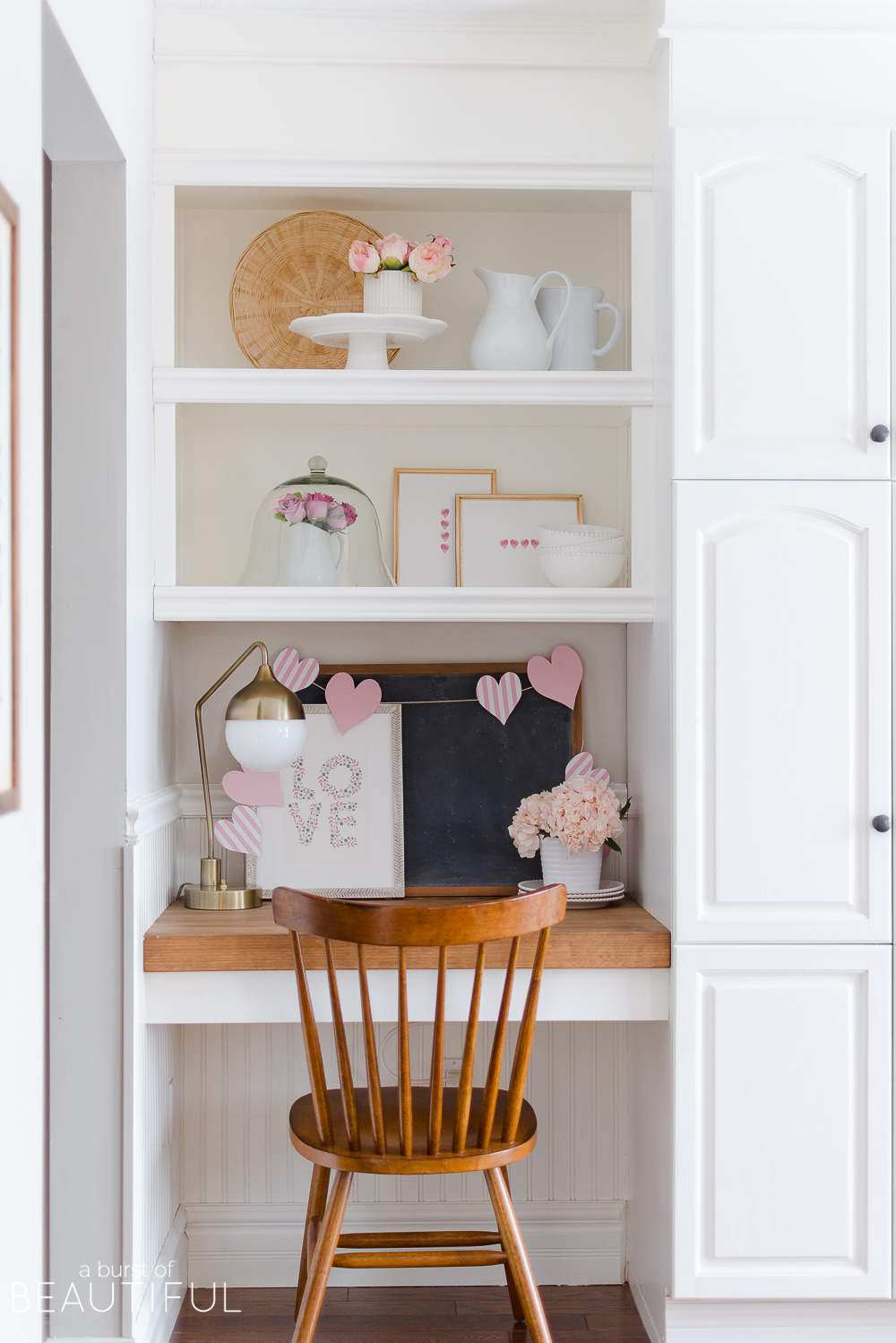 I love placing art in the kitchen, it really helps to create a cozy feeling and make the room feel sophisticated and elevated. I borrowed this adorable LOVE print from Zoe's bedroom (you can find a collection of some of my favorite feminine art here, a lot of it would be perfect for Valentine's Day).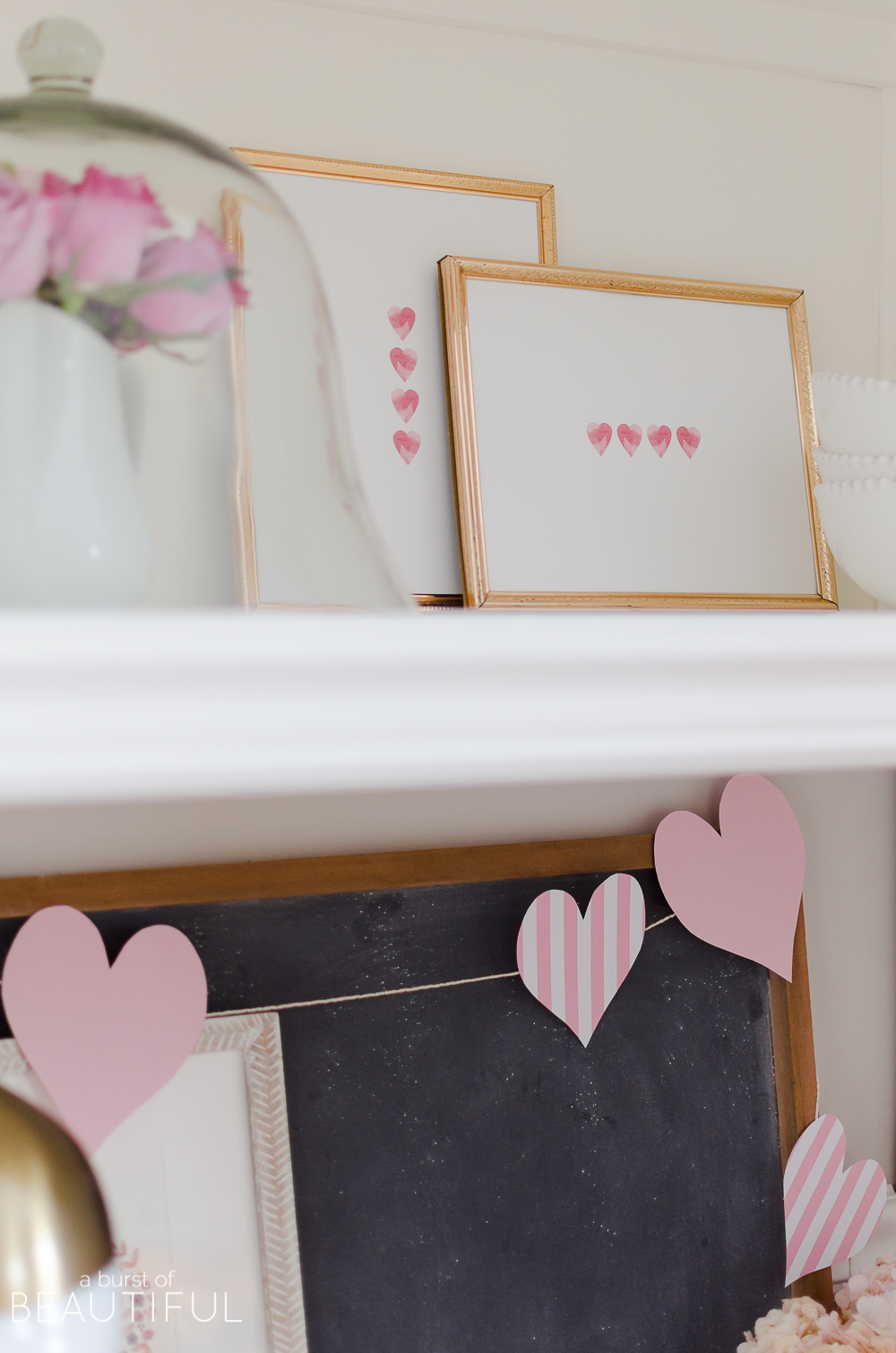 And in the gold frames (you can find these at pretty much any thrift store and I think they are so sweet. I paid only a dollar for each one), I used these cute watercolor-inspired heart prints that I created. I love the simplicity of the repeated heat pattern. If you love them too you can download the prints here: portrait | landscape).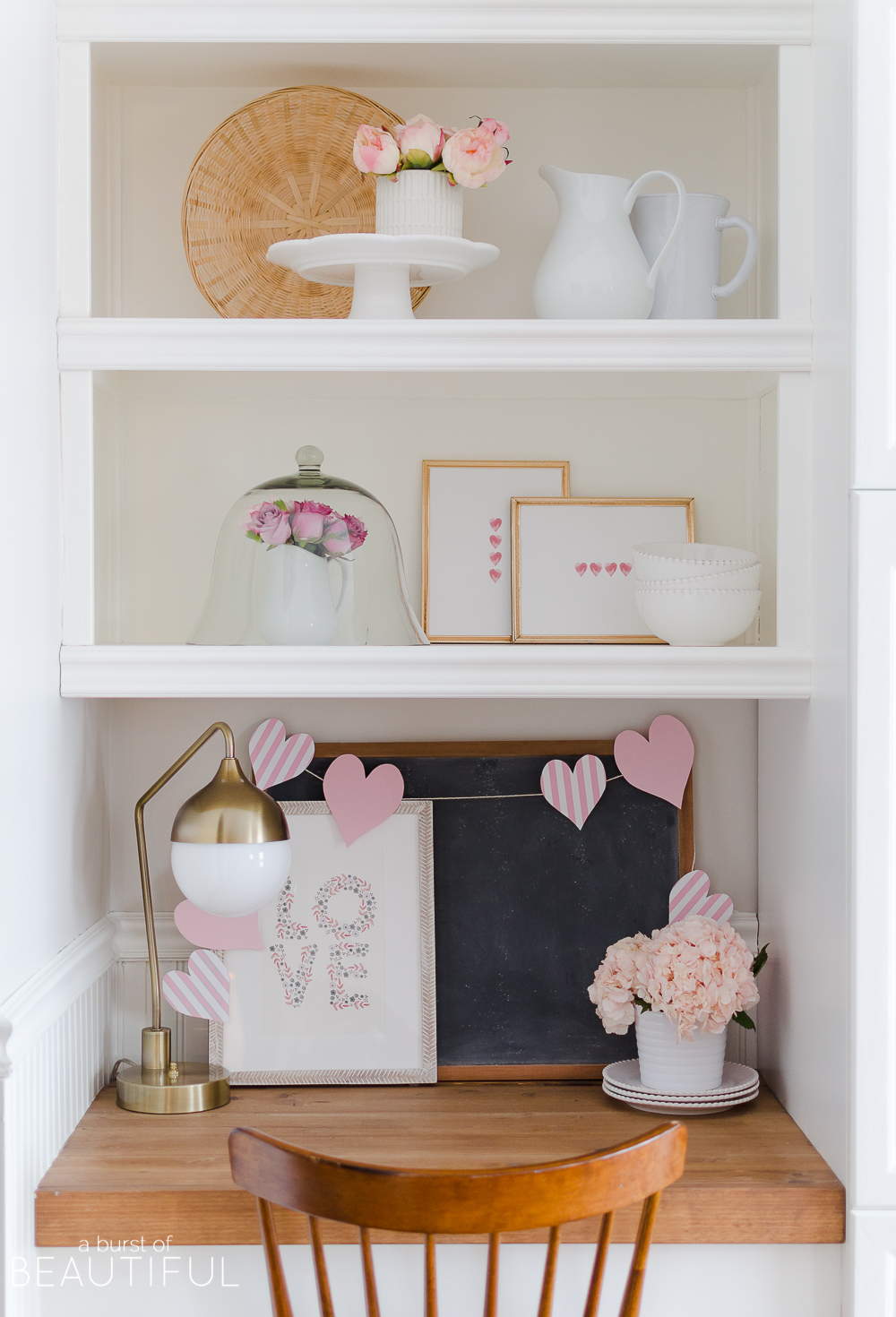 Finally, I strung this simple heart garland along our chalkboard. I'm in love with these easy garlands, I made one for the holidays (you can see it here), and it was so simple and inexpensive to make. I picked up a few pieces of craft paper from our local craft store then traced and cut out the hearts in two different sizes. I just used tape to attach each heart to a piece of string and voila, you have this cute Valentine's Day garland. You can download the heart template here.  
You can see how just a few simple and inexpensive details can add a little touch of love to your home for Valentine's Day. So make sure you spread the love and celebrate with those you hold dearest to your heart!
To download the templates, simply click on the link provided. Once the image appears right click on it and select Save As. 
Valentine's Day Cherry Pie by Jo-Anna of A Pretty Life
Valentine's Triple Berry Breakfast Parfait by Joanna at Lazy Moms Blog
Valentine's Day Mini Bouquet with Printable Wrap by Lucy of Craftberry Bush
DIY Iron-On Mini Tote Bags for Galentine's Day by Joann of Woman in Real Life
DIY Clay Valentine Heart Wall Hanging by Jen of Kitchen Counter Chronicles
Valentine's Day Smoothie Bowl by Kristeena of Motherhood in Stilettos
Chunky Crochet Heart Banner by Christina of The DIY Mommy
'I'm Stuck On You Valentine' Free Printable by Chandra of HashtagBlessed Blog
DIY Love Tees by Colleen of Lemon Thistle
Red Velvet Cheesecake by Kim of Kim Power Style
Custom Floral Dishware DIY with Temporary Tattoos by Christine of Amidst the Chaos
Valentine's Day Keto Cheesecake by Thalita of The Learner Observer
How to Host a Mother/Daughter Galentine's by Kelsey of Kelsey Diane Blog
Free Printable Farmhouse Style Valentine's Day Cards by Shannon of AKA Design
GALentine's Day Tea Party by Shauna of Satori Design for Living
Valentine Heart Necklace by Christine of The DIY Dreamer
Simple Valentine's Day Decor by Alicia of A Burst of Beautiful
Valentine's Sushi Recipe by Stefania of From the Playpen
Valentine's Day Decor by Dannyelle of Life is a Party
Valentine Countdown for Kids by Heather of Raising Memories
Love Sign by Meagan of Row House Nest
Valentine's Day Kindness Countdown Calendar by Jen of Rambling Renovators
Rustic Valentine's Day Decor by Sarah of The Project Pile
Peach Raspberry Crisp by Brittany of My Daily Randomness
How to Make Pine Cone Roses by Jane & Sonja of Sustain My Craft Habit
Handmade Paper Gift Boxes by Jessica of The Vanderveen House
DIY Valentine's Day Pouch by Lidia of Design Inside the Box
Valentine Oreo Cookies by Kendra of Joy In Our Home
Valentine's Day Lunch Idea by Adriana of Chaos and Caffeine
Chocolate Cherries Baileys Cookies by Emily of daydreaming of elsewhere