It is the rain that you look forward to. A rain of thousands drops that wraps the body in a blanket of water, equivalent of a sensual, relaxing wellness program. It is Rainfinity, the new shower range from hansgrohe.
Opening up a new dimension of showering, Rainfinity has a concave shape and innovative wall connection. Its modern surface is elegant in matte white, and the contemporary graphite of the simply structured jet disc is a visual highlight in the bathroom. It is the trendsetter suitable to be installed in every well-designed state-of-the-art bathroom.
Wall or ceiling installation, head or hand shower, with just one or three different spray modes, the hand shower in the traditional design or in the geometric rod shape, Rainfinity gives no end to the design freedom.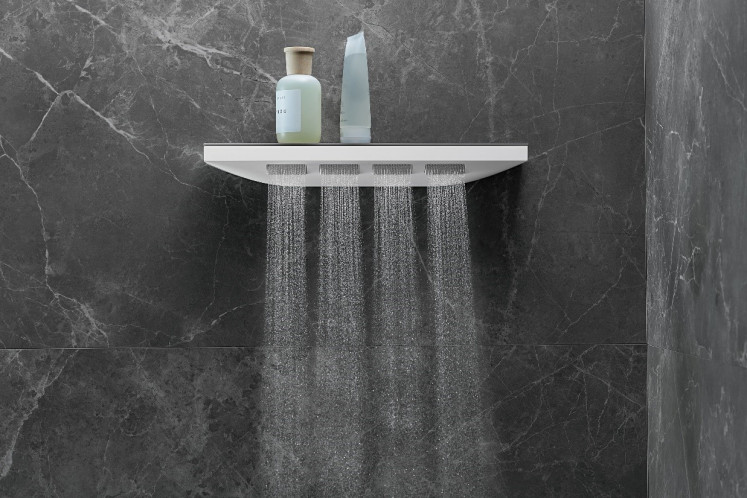 The Rainfinity shoulder shower with an integrated shelf: A visual highlight in the bathroom which offers generous space for your toiletries. (./.)
Those who put good design as top priority while maintaining the wellness of the body, mind and soul, could right away appoint the Rainfinity-equipped bathroom their new favorite wellness destination, right at home.
Showering after a swim or intense workout might then become highly anticipated, as Rainfinity overhead shower pours thousands of micro-droplets that envelop the entire body from head to toe in water, providing you with a sense of ultimate cleansing and invigoration.
To achieve that sense of ultimate cleansing and invigoration, the Rainfinity overhead shower has three spray modes, including the PowderRain mode with its microfine spray for maximum relaxation. Meanwhile, the Intense PowderRain mode with its concentrated jet makes it easier than ever to rinse out shampoo.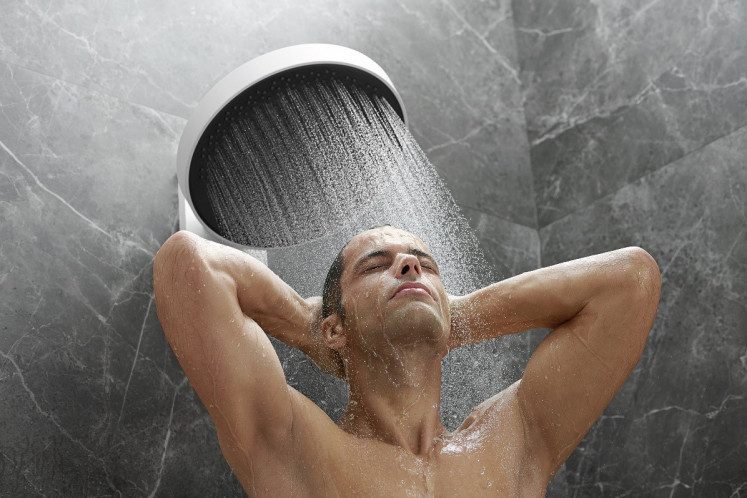 Standing in the rain has never been so invigorating. (./.)
Feel like getting a massage while showering? Look to no other than the third spray mode of Rainfinity: the RainStream. Reminiscent of individual strings of pearls, it pampers you with its consistently high spray intensity and massages your shoulders and back.
There is also the Rainfinity hand shower, in which the RainStream mode is replaced by MonoRain spray, providing a soothing regenerative effect on the arms and legs with targeted, powerful, Kneipp-inspired jets. Showering after a jog, brisk walking and exercise that include legwork is therefore relaxing as well as cleansing.
Apart from providing you with an intense, invigorating shower experience from head to toe, Rainfinity also answers your need for a quick shower that refreshes your body in the middle of your activities, without getting your face and hair wet. The tilt of the head shower can be adjusted between 10 and 30 degrees, thus guaranteeing a comfortable showering position that keeps your face and hair dry.
Can't decide between an overhead shower or a hand shower? The Rainfinity range also features a Showerpipe, which is a system consisting of a head and hand shower and shower bar, an all-new design archetype with practical shelving and separate, concealed control. And the shoulder shower with integrated shelf, while equipped with PowderRain jet that envelops the body with water without getting the hair wet, also gives plenty of space for toiletries.
https://www.instagram.com/hansgrohe