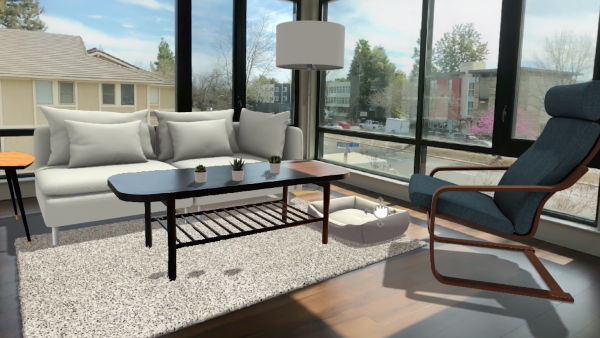 Video screenshot via Geomagical Labs
IKEA is hoping to turn your home into your very own showroom by acquiring interior design AI imaging startup Geomagical Labs, which endeavors to take the toll out of manually moving furniture around, imagining colors, and taking measurements when considering making changes to your rooms.
The purchase was made by Ingka Group, the parent company of IKEA. Geomagical Labs' core product lets users take a photo of a room with their smartphones, convert it into a 180-degree panoramic 3D image, virtually remove every piece of furniture in it, and then "play dress up" by adding new products to the scene, Geomagical's CEO and founder Brian Totty told TechCrunch.
This means when IKEA's new app is ready, you'll be able to drop BILLY bookcases and LACK tables into your dining room and move them around, creating an informed picture of how your room might appear.
The functionality seems similar to IKEA's existing IKEA Place AR app that envisions its furniture in your home, but Geomagical's version claims to provide more accurate visualizations. In time, IKEA will also build on this technology with its own features and tools.
"The user can really play around with this and see how something would fit immediately," IKEA Retail's chief digital officer Barbara Martin Coppola told TechCrunch.
The upcoming tool, which will be available as an app and as a web experience, will be free for customers to utilize. Watch the video below for an early look at this 3D imaging tech.
Ikea acquires AI imaging startup Geomagical Labs to supercharge room visualisations https://t.co/lu7jRtf8Lv by @ingridlunden pic.twitter.com/uppFi3C354

— TechCrunch (@TechCrunch) April 2, 2020
Have been curious what the @geomagical_labs folks were up to (acquired by IKEA today, kudos!).

Similarities to the new https://t.co/2szzTDt3OK tech: Both smartphone-based & use lines.

Geomagical: photos + depth map, ~180º panorama
Canvas: video SLAM + 360º 3D mesh pic.twitter.com/ZdP980N2RH

— Jeff Powers (@jrpowers) April 3, 2020
[via TechCrunch, video and cover image via Geomagical Labs]