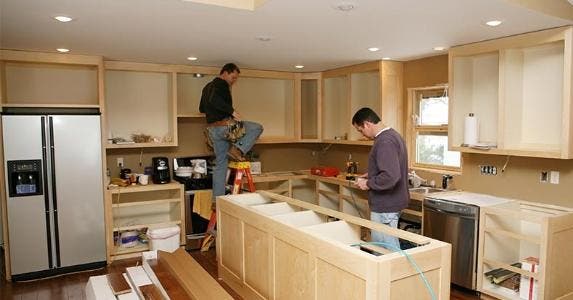 When it comes to major home remodeling projects, few cost as much as a kitchen renovation. It's not hard to see why. Not only do kitchens come with costly components like kitchen cabinets and countertops, there's an array of expensive appliances you'll probably want to replace.
Kitchen remodel costs are often so substantial that consumers save up the money for years to pay for their project — or simply borrow the money they need from the start and commit to years of monthly payments.
Borrowing money for a kitchen renovation is a necessity for many homeowners given the average kitchen remodel cost. For example, Remodeling magazine's 2019 Cost vs. Value study finds that the average upscale major kitchen remodel cost $131,510 this year. A major midrange remodel set homeowners back an average of $66,196.
Even a minor budget kitchen remodel cost an average of $22,507 this year, which shows how major a financial commitment this type of project is. Plus, a kitchen renovation could easily leave you unable to cook at home for weeks at a time, and that can mean higher food bills for dining out until the project is complete.
Remodeling your kitchen with a personal loan
As you're considering kitchen remodel ideas, it helps to understand your options when it comes to financing the job. While there are borrowing options that rely on your home equity, another popular choice is a personal loan.
Personal loans let you borrow a lump sum with a fixed interest rate and a fixed repayment period. You'll have a fixed monthly payment as a result, which makes personal loans easy to plan and budget for.
Where other borrowing options like home equity loans require you to borrow against the equity in your property, personal loans are also unsecured. This means you don't have to use your home as collateral and put your home at risk of foreclosure if you fall behind on payments.
Personal loans tend to be a good option for kitchen remodeling projects because you may have a good idea how much cash you need before you start demolition. This is especially true if you're using a contractor for your kitchen renovation. Once they assess your project and draw up a proposal, you can use that information to compare loan options for the amount of capital you need.
Personal loans also make it easy to apply and get funding online without ever stepping into a loan officer's office. This can be convenient if you're short on time or simply prefer to conduct business online.
Keep in mind, however, that some personal loan companies let you borrow only up to $35,000 or $40,000, which means you may need to consider another option if your borrowing needs are greater. Also note that while personal loans can offer fixed interest rates as low as 4 percent, the best rates and terms tend to go to borrowers with good or excellent credit.
In summary, a personal loan may work best for your needs if:
You don't want to borrow against your home's value or don't have sufficient value.
You have good or excellent credit and the ability to qualify for the best rates and terms.
The lender you're considering offers loan limits that meet your kitchen remodel budget.
You want a fixed interest rate, a fixed monthly payment and a fixed repayment date that won't change.
Alternative ways to finance a kitchen remodeling project
In addition to personal loans, you may also want to consider equity-based borrowing options. Home equity loans, for example, also come with a fixed interest rate, a fixed repayment timeline and a fixed monthly payment. However, you're required to borrow against the value of your home.
HELOCs, or home equity lines of credit, give you access to a line of credit you can borrow against. They work a lot like credit cards since you're not required to borrow the full amount you're approved for — and since they typically come with a variable interest rate. You also have to rely on the equity in your home to qualify for this type of loan.
While home equity loans and HELOCs can come with low interest rates and fair terms, it's important to understand that not everyone qualifies. According to the FTC, you can typically borrow only up to 85 percent of your home's value with a first mortgage and second loan, for example. This makes home equity products a poor option for anyone who has been a homeowner for a short time and doesn't have a lot of equity built up.
How to plan your kitchen remodeling budget
The cost of remodeling your kitchen can be high, but you'll be better off if you create a plan to borrow responsibly. Here are some tips that can help get the kitchen you really want without ruining your finances.
1. Decide on the type of remodeling project
Are you planning a major kitchen overhaul or a budget kitchen remodel? It can help to have an idea of the depth of your project before you dive in. You may be able to keep costs at minimum if you're able to do some of the work yourself and don't need high-end finishes or appliances. However, you'll need to plan a sizable budget if your project is a gut job or you have expensive tastes.
2. Create a remodeling budget
Before you apply for a loan, price out every component of your kitchen remodel cost including materials and labor. If you're working with a contractor, they may take care of this task on your behalf. Keep in mind that you may also want to factor in another 10 percent in costs for any construction overages, new kitchen decor or any related expenses that pop up.
3. Use a loan calculator
Once you have an idea of your kitchen remodel budget, play around with a loan calculator to figure out your next move. Determine how much your monthly payment may be considering your credit score, how much you borrow and how long you are willing to pay your loan. Also consider how your new monthly payment will affect your monthly cash flow and personal finances overall.
4. Compare loan options before you commit
Finally, make sure to compare loan offers from at least three companies before you commit. See how they stack up in terms of the interest rate you can qualify for, your monthly payment and repayment timeline and any fees they charge. Ideally, you'll find a loan with a low interest rate and no fees, including prepayment penalties.
Learn more: