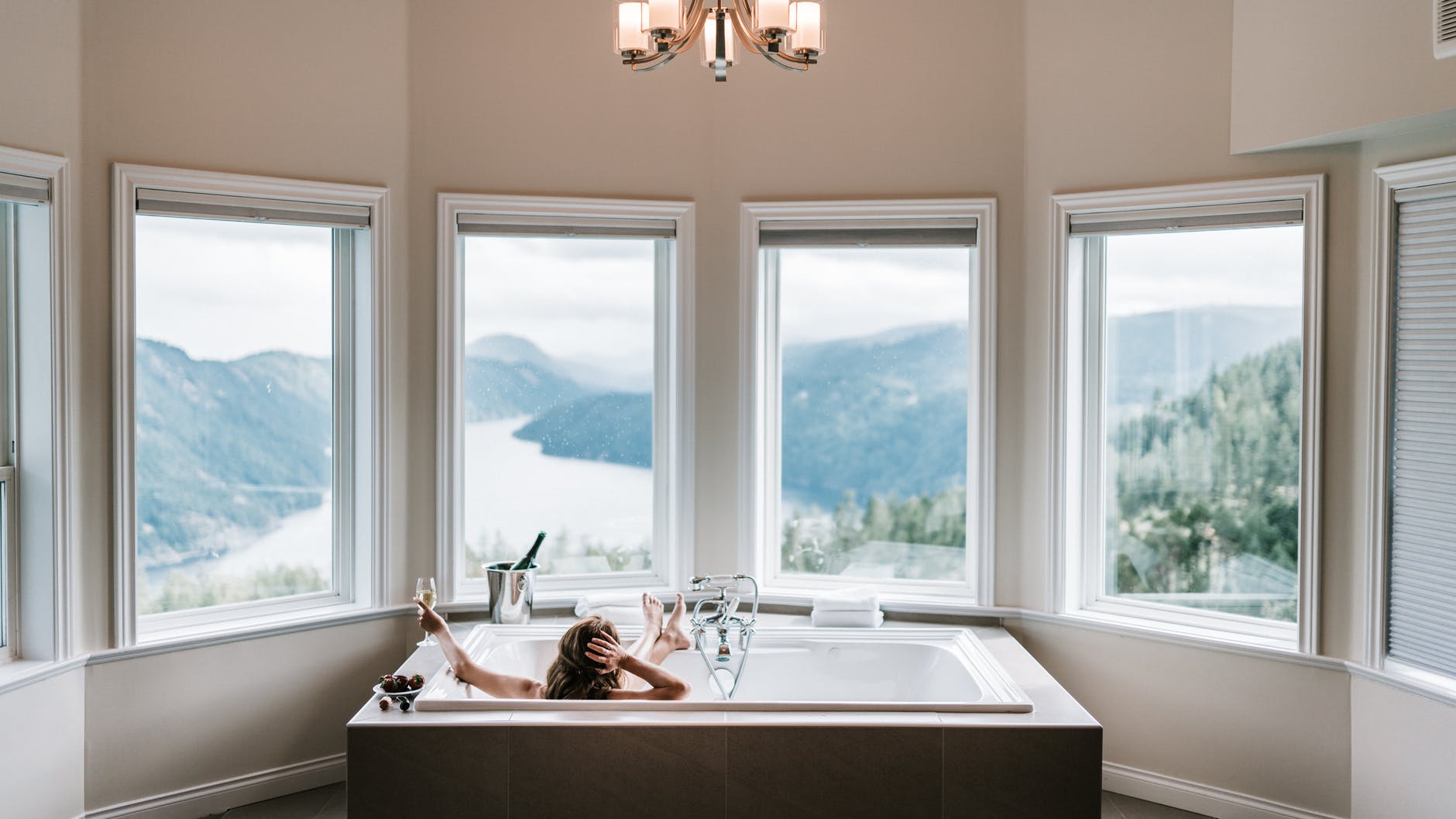 As people's tastes evolve, luxurious bathrooms are becoming more and more popular. Just a couple of years ago, people were delighted with a standard clean-lined bathroom with a beautiful feature wall over the bath or shower. Nowadays, the request for luxurious fixtures, fittings, bathroom materials, and lighting is higher than ever. People realized that the bathroom isn't just a functional room in the home, but a space to unwind and ease the day's tension, so the demand for more massive shower places, luxury whirlpool baths, inset TVs, and other gadgets and appliances skyrocketed in recent years.
With careful planning and close attention to detail, a luxury bathroom can be created in any home. It doesn't matter if your tastes and preferences are traditional or contemporary, luxury bathrooms are all about creating a space where you unwind and truly relax at the end of a long and stressful day. Read along to find out how you can create the most luxurious bathroom of your dreams.
The Cost Of A New Luxurious Bathroom
Before we dive into the design materials and elements, it's only right to dedicate a short paragraph concerning the cost of a new bathroom. On average, the price of a modern luxurious bathroom ranges between £7,000-£15,000 depending on the design elements that you want to implement. While you convert your old and worn-out bathroom into a luxury one, you can always reduce the project's overall cost by merely reducing the most expensive design elements of your new lavish bathroom.
Large Space Is A Must
To begin with, ample space is practically a must if you want to create a luxurious bathroom because if you operate with a wide area, you will be able to design your bathroom pretty well. Almost every lavish and high-end bathroom is quite roomy. Having all of that extra space provides a feeling of being in a tall, lightroom, something that easily makes you feel relaxed. The majority of people won't remember how wide a particular room is, but they remember the sense of space that the place gives them.
In case you have enough room for this project, work with a professional bathroom architect to decorate it accordingly, and make an illusion of spaciousness to prevent it from feeling cluttered or claustrophobic.
Luxury Materials And Stylish Bathroom Furniture
While you design your luxury bathroom, don't neglect the fact that luxurious materials are vital. It's always worth investing in high-end materials like solid wood and stone to add a sophisticated and smart look and feel to the bathroom. Because of their quality, limestone, marble, and travertine are trendy choices for luxurious bathrooms. To achieve a seamless finish, you can use the same material, such as marble tiles – for both the bathroom floors and walls.
Since storage is one of the most critical elements of every bathroom design to ensure complete space functionality, you can go with wood or white gloss bathroom furniture finishes because they come with timeless appeal. Consider all bespoke conditions that can make the best possible use of every last inch of available space. Instead of freestanding bathroom furniture, opt for fitted items for a unified look. In case you operate with a smaller space, wall-mounted furniture is the best way to create the illusion of more floor space.
Bathroom Fittings
Speaking of selecting the right fittings for a luxury bathroom, know that performance is everything. If you're fortunate enough to have a lot of space available, you can include a separate shower enclosure and a bath. For the perfect showering solution, opt for a system with a large fixed shower head, which gives a stimulating rainfall style effect to awaken the senses and a shower handset for more natural cleaning and rinsing. Consider the possibility of adding concealed thermostatic shower valves to create a neat and streamlined finish.
Speaking of the showering solutions, a thermostatic shower tower is another strong possibility to consider in order to have the ultimate showering experience. Pretty straightforward to install, a shower tower incorporates all the functions you could need on a single panel containing a huge shower head with waterfall function, shower handset, and body jets.     
A freestanding bath is another option if you have a generous-sized bathroom and should be ideally positioned in the middle of the bathroom, so it's the first thing you notice when you walk in. Walk-in showers with wetroom glass panels are ideal for creating a sleek and streamlined bathroom as well.
Sanitaryware is another crucial element for luxurious bathrooms. For example, wall-hung toilets, where the cistern is concealed in the wall behind, will maximize the floor space. They are easier to clean and provide a modern look. If you want to achieve a "his and hers" look in your bathroom, you can install two basins side-by-side, which is an efficient solution to ease the morning rush.
Details, Details, Details 
To achieve the highest level of comfort and well-being in your extraordinary bathroom, consider the design of space right down to the smallest details. Underfloor heating will always keep the bathroom at a comfortable temperature, and it will even make a stone floor feel warm underfoot. You can also install a heated towel rail in addition to the underfloor heating, so you will have somewhere to keep the towels dry and warm.
The lighting of the bathroom is another essential detail that shouldn't be overlooked. It needs to be planned thoroughly, and it should be versatile. Dimmer switches will allow you to alter the room's ambiance, so you can dim the lights low for an indulgent bath in the evening after work. Illuminated mirrored cabinets and mirrors will be perfect for when you'll be shaving or applying make-up. Luxurious lighting can also be used to highlight your favorite spot in the bathroom. For instance, lights can be fitted into the floor around the bath to create a stunning focal point.
Incorporating technology within luxurious bathrooms is becoming more and more popular. You can add a waterproof TV to ensure that you won't miss a minute of your favorite TV shows and sports events. Mirrors now feature demister pads, shaver sockets, LED lighting, sensor-operated controls, and even Bluetooth and concealed speakers to listen to your favorite artists or catch up with the latest news stories.
Final Thoughts 
It doesn't matter if you hire a highly renowned architect or decide on a do-it-yourself build, you can undoubtedly create a luxurious bathroom on a set budget if you know what you want to do and achieve ahead of time. Plan it, research it, source the materials, furniture, and other necessary equipment and put in the work to create the luxurious bathroom of your dreams.