If a bad layout, poor lighting and leaky fixtures are getting in the way, it might be time for some changes.
A bathroom should be a place of comfort — the optimal environment for a relaxing soak or getting ready efficiently during a harried morning.
"You're going to spend time in there every day," says Sarah Hurd, part of the mother-daughter team behind Short Story Renovations, a Baltimore-area design, rehab and staging company. "You should not hate your bathroom."
If a bad layout, poor lighting and leaky fixtures are getting in the way, it might be time for some changes.
Here are nine signs that your bathroom could use a little work.
1. Not photogenic
"It's weird how you can see in a picture what you can't see anymore with your own eyes," says Angela Hurd of Short Story Renovations.
The fix: She and her daughter, Sarah, recommend that clients take a photograph of their bathroom to get a better sense of what they might not otherwise notice. People can become blind to the discord — from a mismatched color palette to accumulated junk on the vanity counter, she says.
2. Outdated colors
Funky hues can be one of the most noticeable signs that a bathroom is out of date.
The fix: White, gray and black palettes will lend an element of ageless beauty to any space, says Michael Merschat, an architect with high-end residential design-build firm Wentworth Inc. of Chevy Chase, MD.
People are coming back to "that white, timeless look, be it a very modern-style white or something with a little more traditional flare," he says.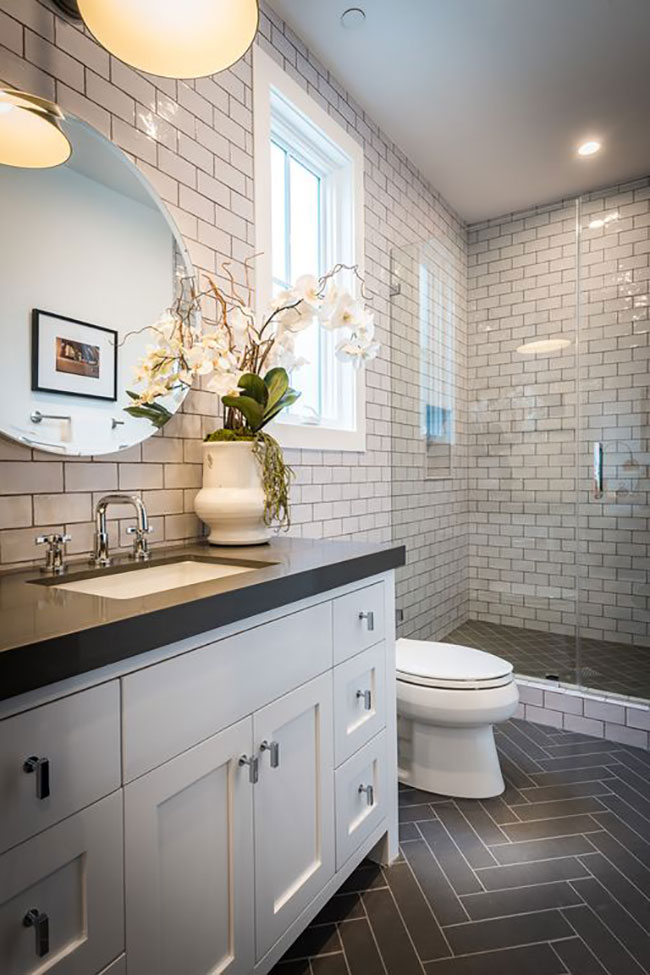 3. Smells like a bathroom
"With some bathrooms, you walk in and they just have an old bathroom smell," Sarah Hurd notes. It's another indication that it's time for a renovation.
The fix: Replacing a toilet's wax seal, fixing a persistent, mold-causing sink leak, or adding better ventilation to a windowless bathroom can all be sure fixes for a fresher-smelling experience.
4. Bad layout
Awkward bathroom layout is another indication that it's time for an update. Odd arrangements, such as a toilet directly next to the bathtub, are typical in bungalows and houses built in the 1920s, '30s and '40s, when plumbing was a new phenomenon.
The fix: Installing a separate water closet can be a winning move, Merschat says. "It gives a nice bit of refinement to the room when the toilet isn't sitting out in the middle of the space."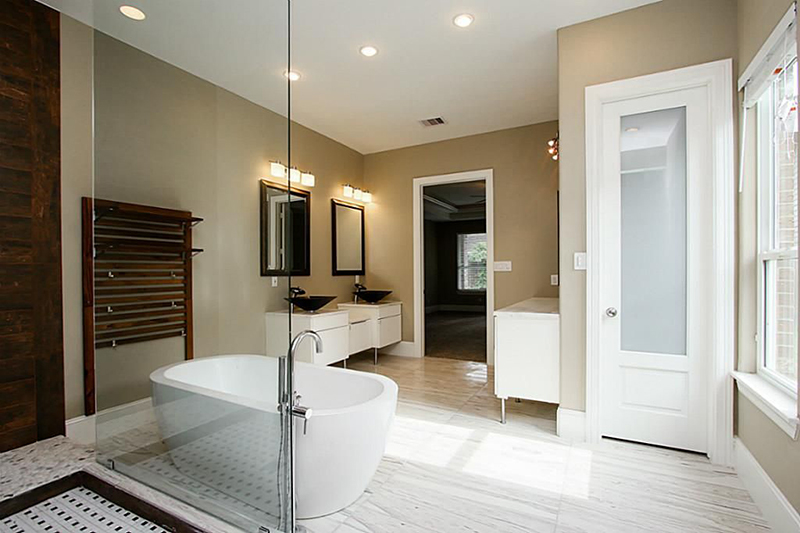 5. Leaks
When brown water stains appear on the ceiling below the bathroom, it's definitely time to make repairs and update.
The fix: Take the opportunity to put in modern fixtures that conserve water and speak to your style, Merschat advises.
6. Poor lighting
"If you're either blinded by the lights that are overhead, or it's so dim you can barely see yourself in the mirror, that's a problem," says Sarah Hurd.
The fix: Better light fixtures and brighter light bulbs may be the first step on your path to a bathroom redo.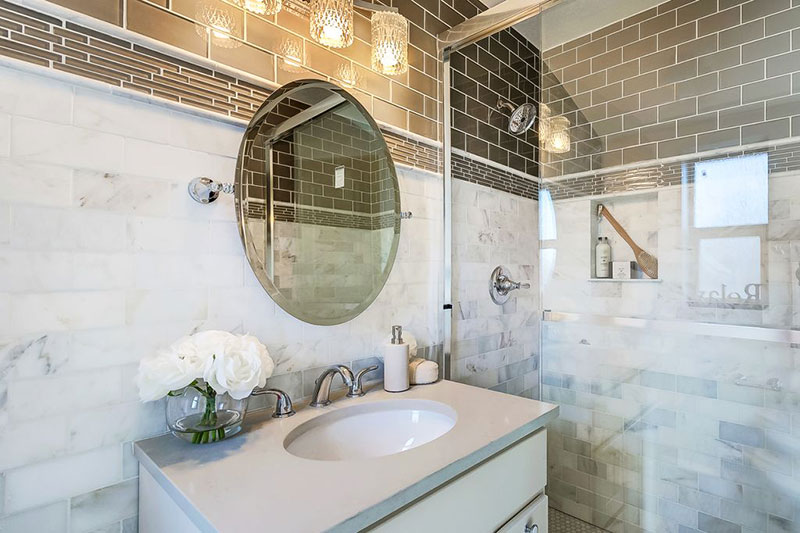 7. Stylistic relics
If you have wallpaper or popcorn ceilings still hanging around from decades past, your bathroom is due for an update.
The fix: Wallpaper is making a comeback, so think about using it in a new way. "We've actually redone powder rooms where we've put wallpaper on the ceiling to give it a different pop," Merschat says.
8. Low on storage
Can't store all the things you need in the bathroom? This calls for action.
The fix: Install a larger vanity, or add shelves above the toilet. You could even knock out a wall and steal a little space from another room to create a linen closet.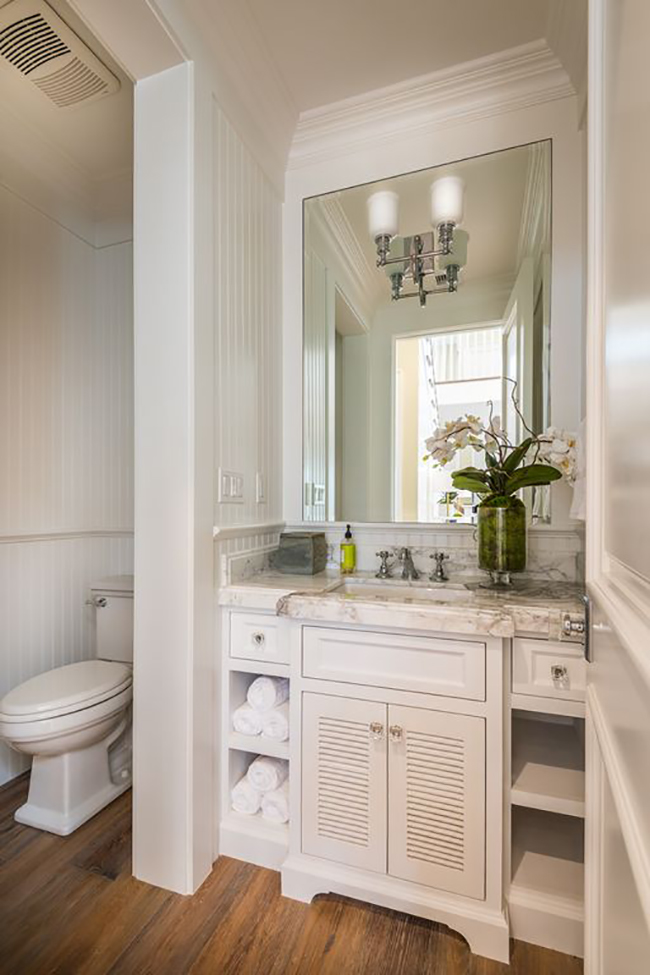 9. Time to sell
If you're not interested in fixing up your bathroom for yourself, do it for your home's next tenants.
The fix: A fancy new washroom can add just the right panache to spur potential buyers to action. "Redoing a bathroom that's just an eyesore within the house might make a huge difference," Merschat says.
If you're ready to renovate, start thinking about the look you want for your new bathroom. At Short Story Renovations, the Hurds use Pinterest to share ideas with their clients.
"[We] start a board that all of us can put stuff on," Angela Hurd explains. "That way [our clients aren't] in the dark about what we're trying to do." This practice helps everyone involved get a feel for one look and stick with it.
Top photo from Zillow listing.
Related: