Let's be honest: Few things are quite as impressive as a gorgeously remodeled bathroom, which can make even the dingiest homes or tiniest of tiny apartments feel like penthouse suites.
But not all of us have the time or money for a remodel—and so we're stuck with our sad albeit functional loo. Guess what, though? You don't need the budget of a celebrity to have an A-list bathroom. In fact, you can make yours look more expensive in as little as two days' time—without emptying your wallet.
Check out these DIY projects you can tackle to increase the "wow" factor of your bathroom.
1. Focus on fixtures
"One of the simplest and most cost-effective fixes for outdated bathrooms is to put a focus on your fixtures—as in, plumbing and lighting," says designer Leah Tuttleman of Re-Bath. "Think chandelier, vintage door and cabinet handles, modern sink design, or a flashy new mirror"
Of course, you can order whatever fixture you fancy online. But if you're the DIY type, you can opt instead to repaint your existing ones using this tutorial.
2. Add a frame to your mirror
Sick of your builder-grade mirror? Update the look by adding a brand-new frame.
"Adding a frame to your bathroom mirror is an easy, cost-effective way to give your bathroom a custom look," says Lauren Noel of Love Remodeled. "It brings a sense of luxury to a mirror and imparts some style as well. A simple wooden box frame will look rustic, while a mitered-edge moulding frame will appear elegant."
Follow this tutorial by Noel to get started.
__________
Watch: Transform Your Home This Weekend With an Easy DIY Project
__________
3. Build your own vintage towel rack
Still hanging towels on the back of the door? We have a better idea, and all it takes is some spare lumber and a bit of elbow grease.
"I love a great towel display—ladders and vintage towel racks add so much needed storage, and they look great, too," says Ana Cummings ANA Interiors.
Check out this DIY project to build yours.
4. Stain the tile grout
If you haven't considered staining the grout in your bathroom (or more importantly—if you never want to spend another afternoon scrubbing it again), now might be the time.
"This easy weekend DIY is one of my favorite ways to update a bathroom, because it requires minimal effort and skill, but makes the whole bathroom look sparkling clean again," Noel says. "Nothing makes a bathroom feel dirtier than ugly grout, so staining or painting your tile grout is a great way to bring new life to your bathroom tile."
You can even out discolorations, or you can change the color of the grout completely. (Having a contrasting color—e.g., light-blue grout on espresso-colored tile—has actually been trending.) And since grout paint is typically also a sealant, it increases the longevity as well.
Check out this tutorial from Noel to give your tile a refresh.
5. Install bold flooring
If staining the grout isn't enough, go one step further and remake your floor tile into something more bold.
"If you're hunting for a new look for your flooring, try unique tile shapes," Tuttleman suggests. "There are no longer only basic rectangle shapes to choose from. Try fish scales, diamonds, chevron, or hexagon to liven up your bathroom."
Get started with this selection of bathroom tile from the Tile Shop.
6. Glam up your lighting
If you're still rocking those unflattering lights from when you first moved in, now might be the time to change that. And trust us when we say you'd be surprised by what swapping in a few new ones can do for the overall feel of your bathroom.
"The correct lighting is key in bathrooms," Tuttleman says. "It's about mastering reflection and light in a dark space. Layer your lighting between ambiant light, task light, and possibly a sparkly chandelier suspended above the tub, which will create the focal point in your bathroom. Dimmers can also play an important part of the lighting plan. They provide calmer light when needed and total control over the mood."
Get inspired by this collection of wall sconce lighting from CB2.
7. Upgrade your shower head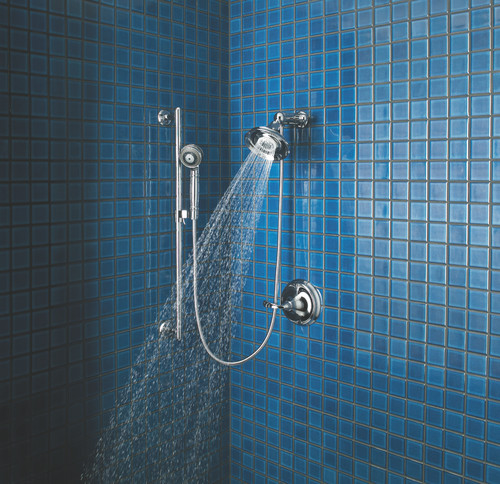 "Take your bathroom to the next level with the simple upgrade that will leave you thanking yourself every time you step into the shower: a massage shower head," Tuttleman says. "Whether you prefer a waterfall shower, high-pressure or hand-held, a slick modern design that mimics that natural flow of falling rain will emanate relaxation that the whole family can enjoy."
Here are a few luxury shower heads from Bed Bath & Beyond to help you get started.
8. Go for a curved shower curtain rod
You'll just have to trust us on this one. Because no matter how "clean" your shower curtain is, we all have the same grossed-out reaction whenever it starts inching closer.
"If you've never experienced the luxurious roominess of taking a shower with a curved shower curtain rod, you haven't lived," says Vicki Liston of On the Fly DIY. "It's an inexpensive upgrade, takes only about 20 minutes, and is totally worth never having your cold shower curtain liner 'attacking' you again."