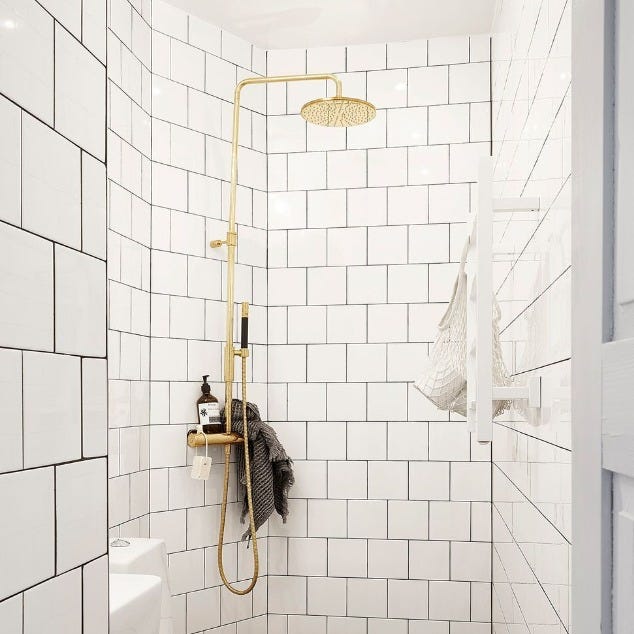 Fantastic Frank/Romanek Design Studio
As with any small space, you need to get creative to make the most of it. That means diving deep into all of your options and boiling them down to the absolute best one for you and your space. Whether you have a super tiny apartment bathroom or less square footage to work with in a large house, these shower ideas will help you design a space that feels anything but confined. Every time you walk into your bathroom, you'll know that you're getting maximum function and style out of it.
1 of 10
Make It Cozy
Use brass accents and neutral tile to make a small shower feel like a super cozy oasis. This shower by Cilla Bonfim Interiors has a beach view, which makes it even more comforting.
2 of 10
Use Fun Tiling
No room for decor? No problem. Get creative with your tiling. This shower designed by Black Lacquer Design makes it seem as though you're underwater with its bubble-like pattern.
3 of 10
Add a Central Drain
The central drain in this bathroom is the ultimate space-savvy hack. Essentially, the bathroom and shower floor are one. The lack of a door and closed off flooring area will ensure the space feels as open as possible.
4 of 10
Install a Small Perimeter
If you want to define your shower space without making it seem super small, incorporate a short perimeter along the edge. When paired with glass doors, like in this bathroom designed by Corey Damen Jenkins, it'll blend right in with the whole room.
5 of 10
Ditch the Door
Forego a door for a sheet of glass near the shower head to keep the water contained. The lack of a door will immensely open up your space. This bathroom designed by Veneer Designs also has a fun tiled floor to keep the space enticing.
6 of 10
Use the Highest Ceiling Point
If you're working with a sloped ceiling–like the one in this bathroom by Romanek Design Studio–make sure the shower is located at the highest ceiling point so that the shower head can accommodate people of all heights. No one enjoys being cramped into a corner and bending backward to take a shower!
7 of 10
Carve Out Niches
Don't have any space for seating or shelving in your shower? Try installing niches to store your toiletries. Using the wall space means you'll have more room to enjoy your shower in. Plus, you can have a little fun with tiling and shapes, like designer Justina Blakeney did with this bathroom.
8 of 10
Open It Up
In the main bath of his California home, architect Eric Olsen added a glass door that opens to the outside. If you live near the ocean or have a bathroom on the main level of your home, this would be a great way to open up the shower space and make it seem less stuffy.
9 of 10
Include an Archway
Liven up your shower with an archway. This warm yellow one by Old Brand New gives the bathroom a vibrance that a plain rectangle-shaped shower would lack.
10 of 10
Incorporate a Glass Door
Glass doors are the easiest way to get an open look without letting water get all over the place with each shower. The door on this shower by Michelle Lisac Interior Design allows light to come in through the window, which will also make the space feel more open and airy.
Advertisement – Continue Reading Below
This content is created and maintained by a third party, and imported onto this page to help users provide their email addresses. You may be able to find more information about this and similar content at piano.io
This commenting section is created and maintained by a third party, and imported onto this page. You may be able to find more information on their web site.