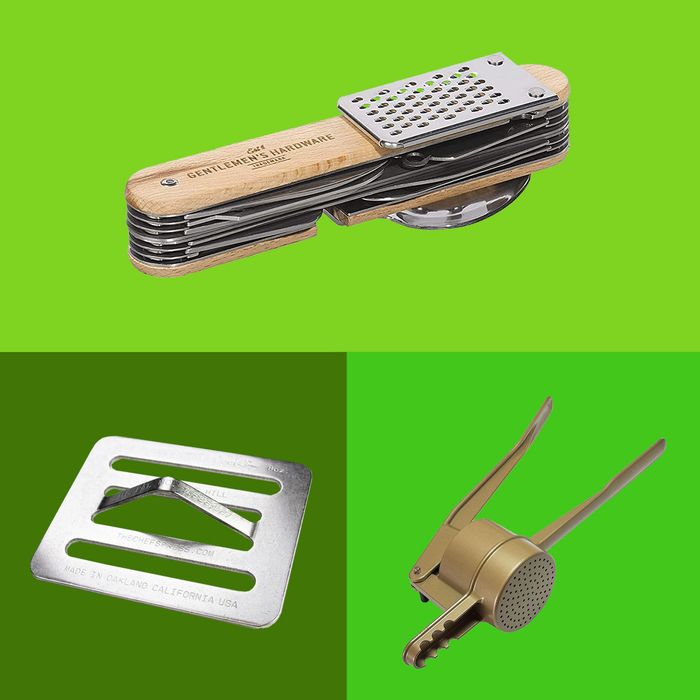 In honor of Ingenious Design Week, we asked chefs across the country about the clever tools that they can't cook without and dug deep into our own back catalogue to uncover other sworn-by doodads that are truly worth making space for in your kitchen drawer. And while we typically ascribe to the Alton Brown rule of kitchen gadgets — single function is a scam — we found that there are some select unitaskers that will make life better, just as there are likely things lying around your kitchen that can be used in ways you never considered.
If you've spent any amount of time in a Waffle House, then you've seen a press at work, likely keeping a patty melt flat on the grill. But chef Gracie Nguyen of East Side Banh Mi in Nashville says not just any press will do. She swears by this one from Chef's Press, because, unlike traditional presses, it features a smart vented design, meaning you'll never accidentally steam your grilled-cheese sandwich. And you don't have to be a short-order cook to find this handy. It weighs down meats and veggies "so they cook evenly and consistently," Nguyen says. "It can also be used to help submerge artichokes while they are boiling or a fat pork chop soaking in brine. They stack so you can add a few on top of each other if you need a bit more weight. Brilliant!"
Parchment paper half-sheets are the Bounty Select-a-Size of cooking: exactly the kind of thing you'll go from not knowing exists to being unable to live without. "I use these to line pans for easy clean up," says chef Cassidee Dabney of the Barn at Blackberry Farm. "But I also use them to cover my cutting board if I'm cutting beets or garlic or anything that might stain with color or leave a flavor. They make a great piping bag, and you can go old school and use them to wrap food instead of using plastic. And they make a great cover during simmering to keep the splatters down."
Though you probably don't think you need a spaetzle maker, Mark Steuer, the chef-owner of Funkenhausen in Chicago insists otherwise. Even cooks who hate unitaskers will appreciate this made-in-Germany Goldspatz gadget for the sheer number of tasks it can take on, he says. In addition to using it for spaetzle, Steuer says, "It makes perfect mashed potatoes, presses garlic, and juices citrus." It also happens to be dishwasher-safe.
With this clever tapered spout, never again will you attempt to drizzle a little olive oil into a pan only to have half the bottle come spilling out. Chef Katie Button prefers buying her oils in bulk, and these convenient spouts allow her to convert old wine bottles or regular olive oil bottles into custom pourers. "It's been a game changer for me at home," says the Asheville, North Carolina-based chef. "I've realized I could also put a spout on a bottle of vinegar and have the makings of salad dressing at any moment. Their uses are really limitless, and they are an awesome tool to have around." And should you decide to do any at-home bartending, they'll work for that, too.
Though bench scrapers have long been a must-have of pie-makers for their ability to divide dough and clear counter tops, you don't have to be a baker to find this ergonomically friendly device indispensable. Chris Lewallen, the chef de cuisine at new Nashville spot White Limozeen, points out out that they're much more effective at picking up minced garlic or chopped potatoes than the side of a chef's knife. He also uses it to scrape every last bit of food out of bowls and off of cutting boards. "It is a handy multitool that I never go without," he says. We've also found that it's terrifyingly great at scraping built-up ice out of the freezer or cubing butter.
Instead of fussing with Mason jars and inevitably misplaced lids, consider the E-Jen, recommended to us by three chefs, including Everyday Korean authors Seung Hee Lee and Kim Sunée and chef Dave Park of Jeong in Chicago. Unlike glass jars, it's light-resistant and as Park points out, there's no need to invest in fermentation weights or other fermentation accessories. "It's really useful because it has an insert that essentially creates a vacuum to press down your ferments," Park says. "And it has an inner ring where you can either burp your ferments or keep it airtight." Lee and Sunée add that "they also come with a dial, as to when you made it and when you put it in, so it reminds you how long it's been fermenting.
If you make a lot of stir-fries or like to julienne vegetables for salads, it's time to consider a scallion shredder, which makes finely slicing up scallions (or any other small vegetables) a quick job. We're talking seconds compared to minutes of chopping, which is great if you're slow with a knife. "I use it for making salad to eat with grilled meats or for making long, wispy strands for Korean barbecue," says chef Kelly Jeun of Frasca Food and Wine in Boulder, Colorado.
Although we're typically skeptical of "all-in-one" tools, chefs Elise Kornack and Anna Hieronomus made a convincing case about this 12-in-1 multitool when we asked them for recommendations on what to bring to a long-term vacation rental. "We take it everywhere we go," says Hieronimus. "It has everything you need to prep an entire meal, whether you're in a rental or by the campfire." It includes a cheese grater, small paring knife, fork, spoon, bottle opener, and even a can opener.
If you're in hot pursuit of the best scrambled eggs, chef Mike Lata of FIG and The Ordinary in Charleston says it's worth investing in some chopsticks or batons specifically designed for cooking. Compared to a spatula, they're capable of moving deftly through a pan and are unrivaled when it comes to cooking delicate foods like crepes. Lata says they "help develop the tiniest curds. I crack the eggs into a two-cup measuring cup and beat them with the batons. It's quick, easy, and much quieter [than a whisk], which is nice because I'm an early riser." Another bonus: reconstituting oil-based spreads. "The batons are great for stirring separated peanut butter, tahini, and anything else that needs stirring in a small container," Lata adds. They're also a far more precise alternative to tongs when it comes to sautéing and grilling.
We're at the height of grilling season, which means we're also at the height of grill-cleaning season. Scrubbing by hand (especially when you haven't done so in a while) can be a pain, but chef Jordan Wallace of Pizzeria Locale in Denver swears by the Grill Daddy as the be-all and end-all grill brush. Unlike traditional grill brushes, you fill this one up with water, which means you can steam and scrub gunk at the same time. It "cleans a grill better than any other tool. I love it," Wallace says. "And the name is hilarious."
The question isn't what this spice mill, from the same people behind the legendary grater, can do, but what can't it do. It features the same blades that have made microplane graters essential among chefs — but they're contained in a battery-free grinder. What's more, the top of the spice mill features an airtight container for conveniently storing spices between grinds. "Everyone at MeMe's uses this spice grinder," Bill Clark of MeMe's Diner in Brooklyn told us last year. "Behind the bar, it's how nutmeg goes on our classic punch; I use it for baking, and [co-owner] Libby uses it in the kitchen. We are not gadget people, [but] this is worth making space for."
The Strategist is designed to surface the most useful, expert recommendations for things to buy across the vast e-commerce landscape. Some of our latest conquests include the best acne treatments, rolling luggage, pillows for side sleepers, natural anxiety remedies, and bath towels. We update links when possible, but note that deals can expire and all prices are subject to change.